NFC East
Stoppable force, movable object: The Jets have gone three games in a row without intercepting a pass, but they should get their chance Sunday against the Washington Redskins. Washington quarterback Rex Grossman has thrown at least one interception in seven consecutive games, and according to ESPN Stats & Information, "his 14 interceptions on 270 attempts is the highest percentage by a qualifying QB this season." The percentage is 5.2. Deposed Denver quarterback Kyle Orton, now with the Chiefs, is second at 4.5. Philip Rivers of San Diego is third at 4.1. Rex is in a class by himself here.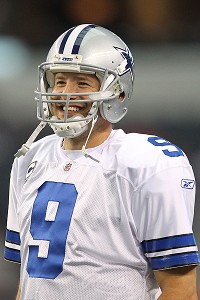 Matthew Emmons/US Presswire
It was another November to smile about for Tony Romo and Dallas.
Streaking Cows: The Dallas Cowboys have won four games in a row. Should they beat Arizona on Sunday, it would be their first five-game winning streak since 2007, when they had two separate streaks of at least that length — a five-gamer to start the season and a seven-game winning streak from Weeks 7-14. The four-game November win streak is no surprise, since the Cowboys are 19-2 in Novembers with Tony Romoas their quarterback. He is, as you've no doubt heard, a more pedestrian 8-10 in December. His most recent December was a good one, as he led the Cowboys to a division title and a victory against then-undefeated New Orleans in that season's stretch run. Romo was injured last December and did not play.
Going deep in Big D: According to ESPN Stats & Information, Romo has six touchdown passes in the past four weeks on throws at least 15 yards long. That's the highest total in the league during that stretch. The Arizona defense Romo will face Sunday has allowed the second-most touchdown passes of that length this season (7) and the sixth-highest completion percentage on throws of 15 or more yards this season (47.6 percent).
Hookups: The game between the New York Giants and the Green Bay Packers will feature two of the best quarterback/receiver combinations on deep passes in the league. Green Bay quarterback Aaron Rodgers is 8-for-11 this year when targeting receiver Jordy Nelson21 or more yards down the field, according to Stats & Info. That's the highest percentage (72.7) in the league for a quarterback/receiver combo with at least 10 such attempts. The Giants' Eli Manning and Victor Cruz rank third on the same list, as Manning is 9-for-14 (64.3 percent) with four touchdowns when targeting Cruz at least 21 yards downfield.
Bizarre historical domination note: The Redskins are 8-1 all-time against the Jets. Sunday will be the 10th time these teams have faced each other in 40 years. (By contrast, the Colts and Patriots meet Sunday for the ninth year in a row.) The last time these teams played each other was Nov. 4 2007, when Shaun Suisham's fifth field goal of the game gave Washington a 23-20 victory in overtime. Clinton Portis rushed for 196 yards for Washington in that game. Kellen Clemens was the Jets' starting quarterback. Washington has beaten the Jets four times in a row. The only Jets victory in the head-to-head series was a 3-0 victory on Dec. 11, 1993. In what had to be one of the worst games in NFL history, Cary Blanchard kicked a first-quarter field goal and no one scored the rest of the way. Jets quarterback Boomer Esiason and Redskins quarterbacks Rich Gannon and Mark Rypien combined for 184 passing yards. Ideally, Sunday's game will be better.